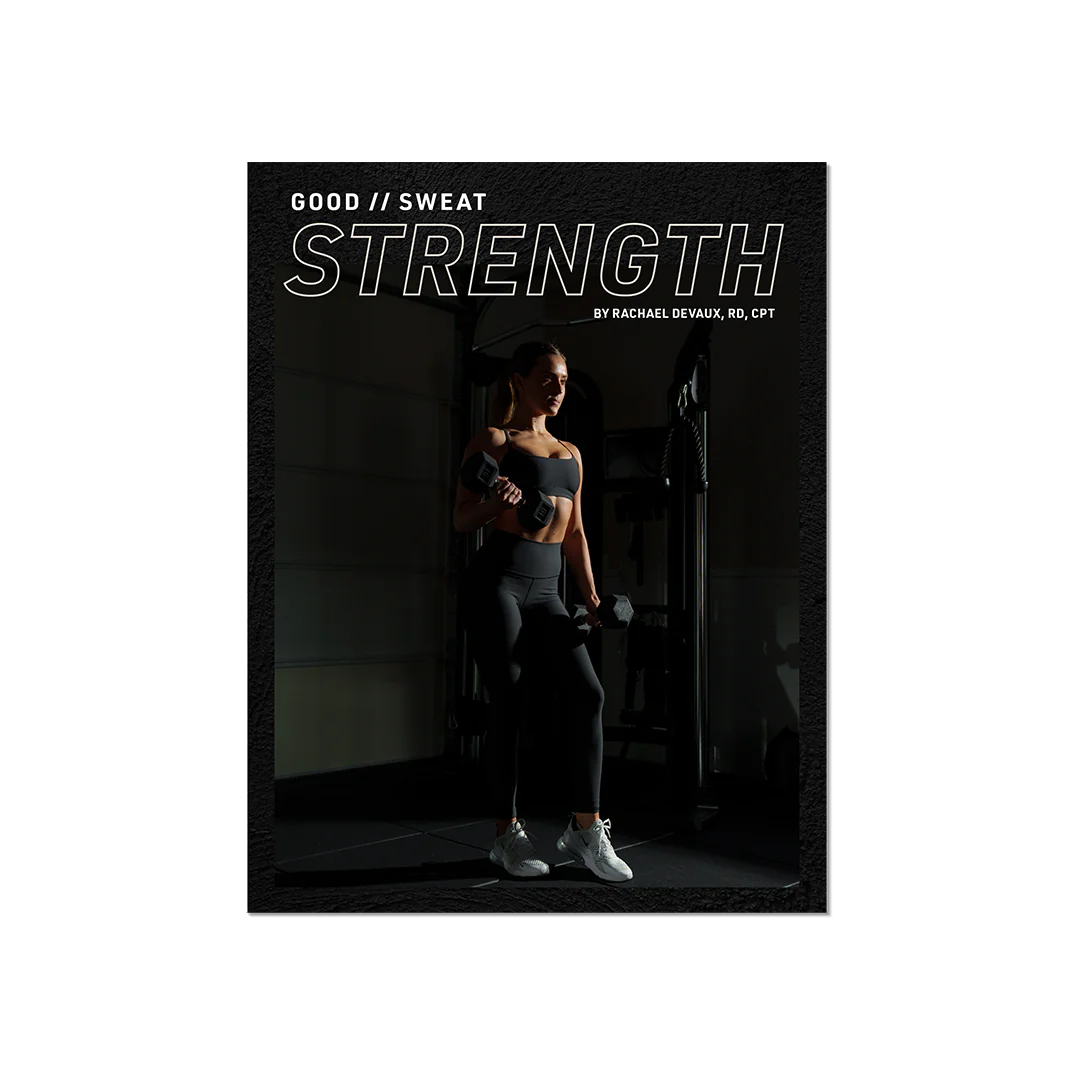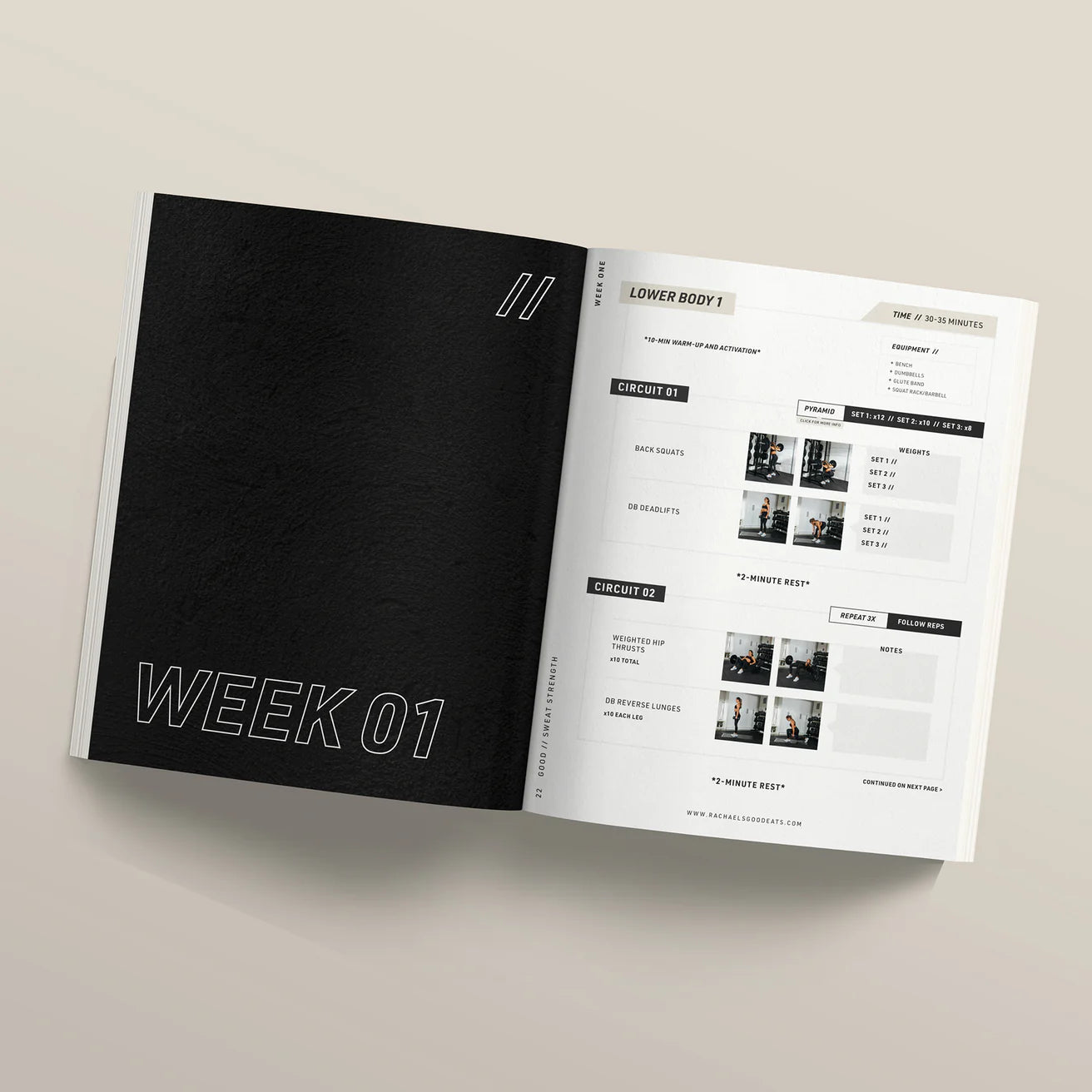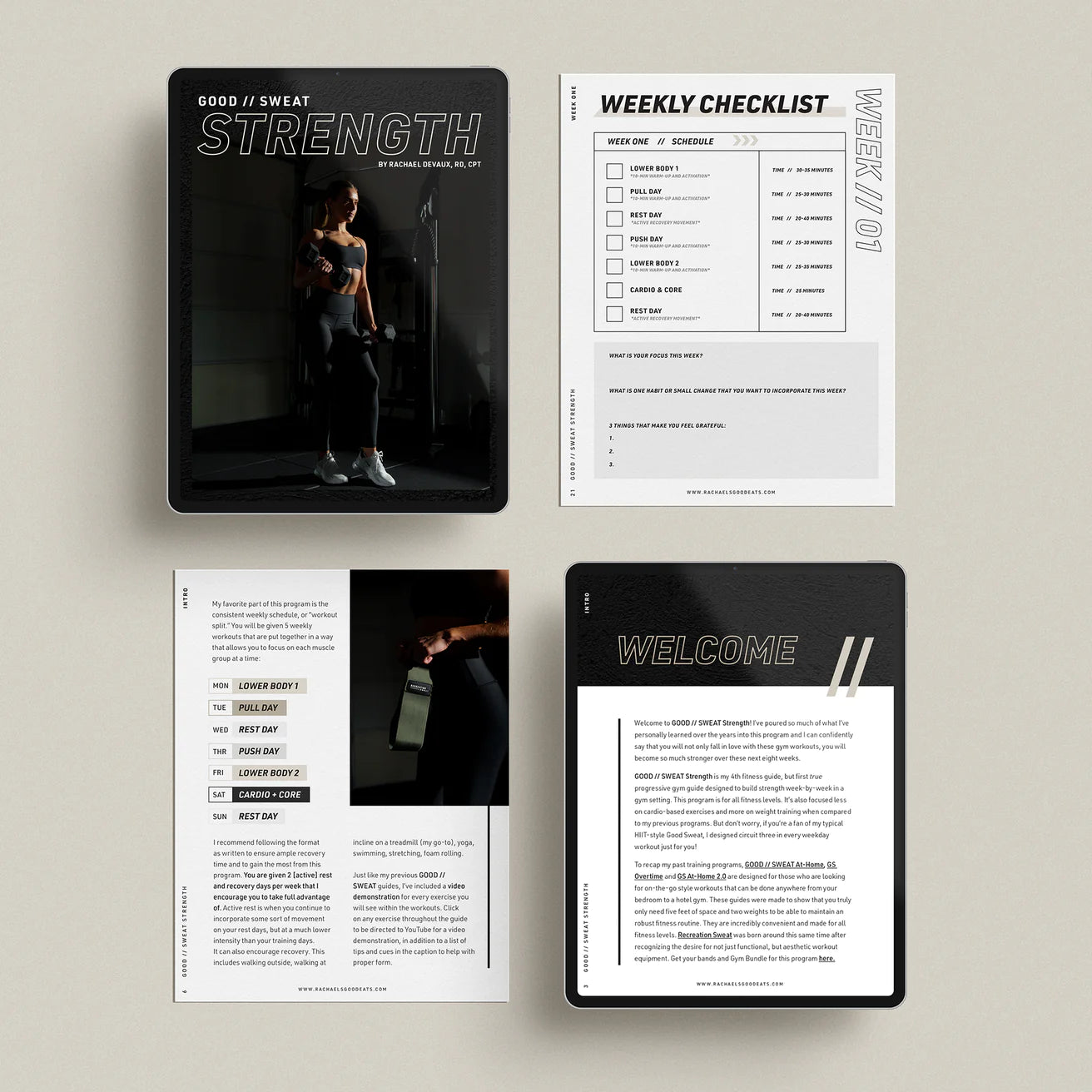 @Rachaelsgoodeats GOOD // SWEAT STRENGTH GUIDE
Sale price

$89.00
Regular price
(/)
---
GOOD // SWEAT STRENGTH -- Time to:
Build strength, gain confidence in the gym, and establish the foundation of your strength training routine with proper form and all the tips along the way from your virtual trainer, Rachael DeVaux, RD, PES. This progressive, 8-week program was designed to increase lean muscle mass week-by-week in a gym setting. This program is for all fitness levels, and will have you loving your workout routine and wanting more each week! It's been the program that has gotten me in the best shape of my life.
GOOD // SWEAT STRENGTH is a digital download and includes:
- 40 strength-based progressive workouts (5 structured workouts per week: Lower Body 1, Pull Day, Rest Day, Push Day, Lower Body 2, Cardio & Core, Rest Day)
- Tools to set goals and track your progress
- Deep dive on gym equipment (Tutorial videos on a squat rack and cable machine) and gym etiquette 
- Video library to demonstrate form and best practice for every move throughout the program
- Nutrition information to support muscle growth 
- Access to a community of thousands of like-minded members (link on the resources page inside your ebook)


EQUIPMENT NEEDED (yes, this program can be modified without the squat rack and cable machine, though you will get the absolute most out of the guide with all the equipment listed below):
- Squat rack or Smith machine
- Cable machine (can be modified with Power Bands)
- 3-piece Resistance Glute Band set
- Power Bands
- Gym Bundle (optional if your gym already has)
- Dumbbells
- Bench
BLOG RESOURCES:
HOW TO USE THE APP, MARKUP, FOR GOOD // SWEAT STRENGTH
THE 8-WEEK GYM GUIDE THAT WILL TRANSFORM YOUR FITNESS ROUTINE
11 THINGS I WISH I KNEW BEFORE STARTING THE STRENGTH GUIDE
All digital guides are final sale.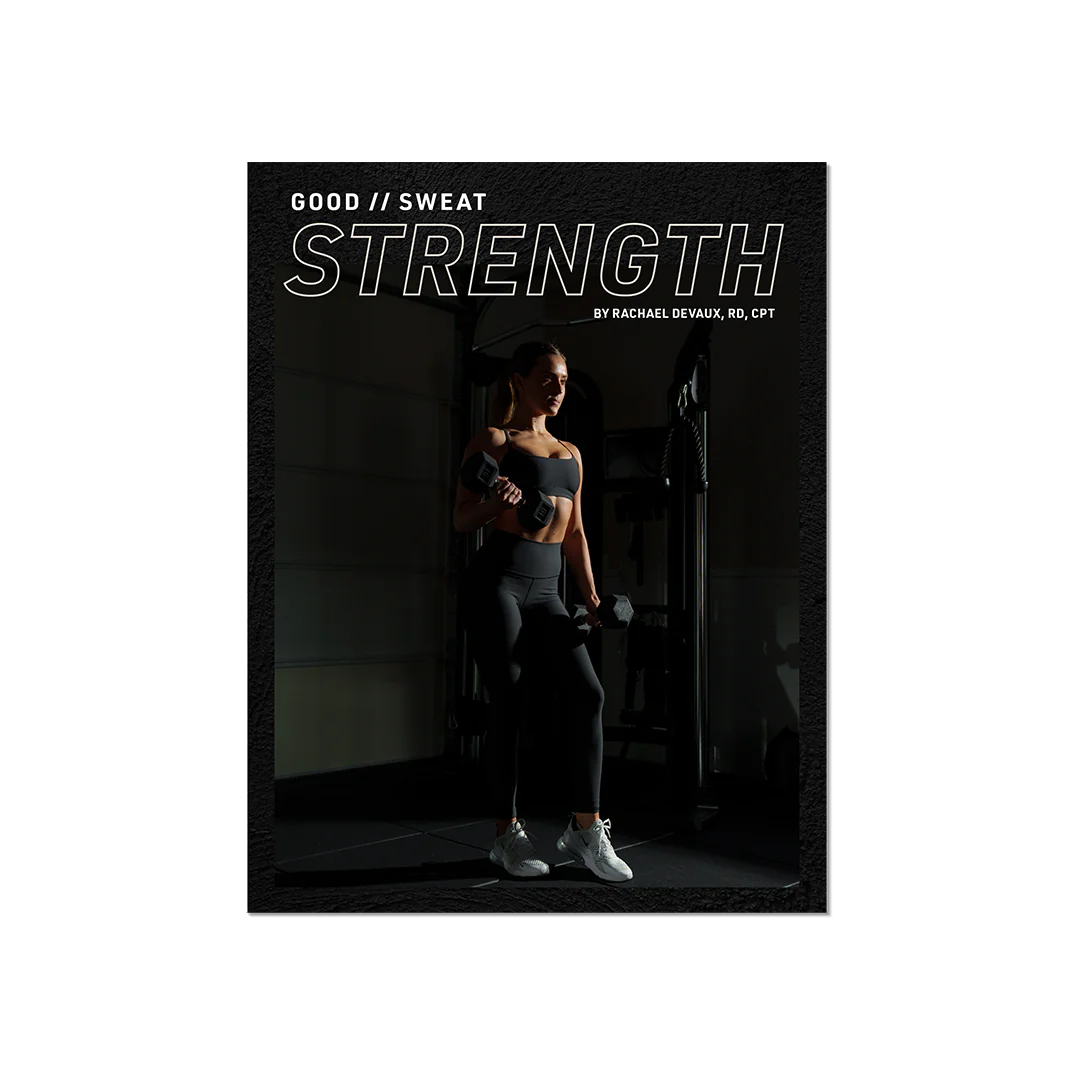 @Rachaelsgoodeats GOOD // SWEAT STRENGTH GUIDE
Sale price

$89.00
Regular price
Choose options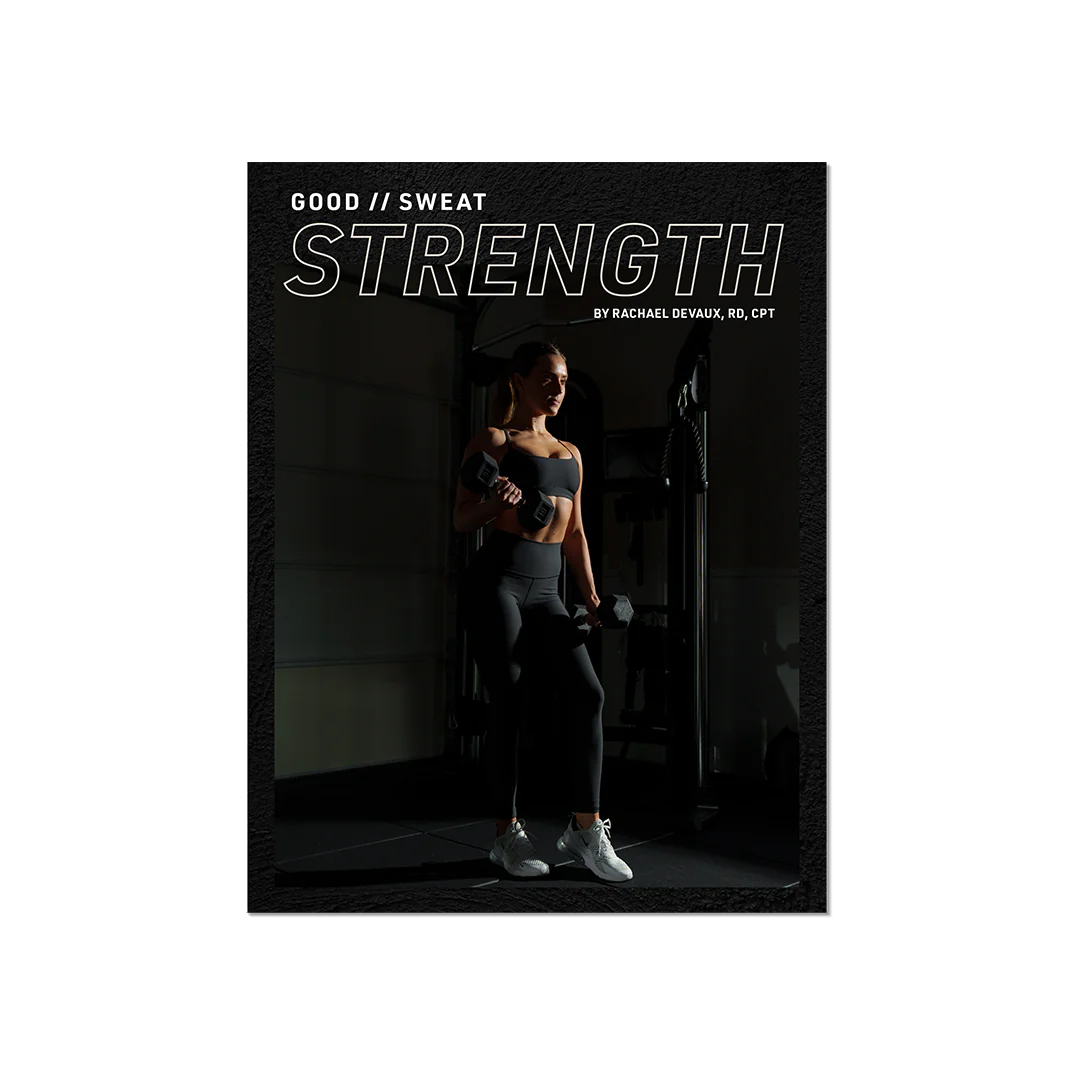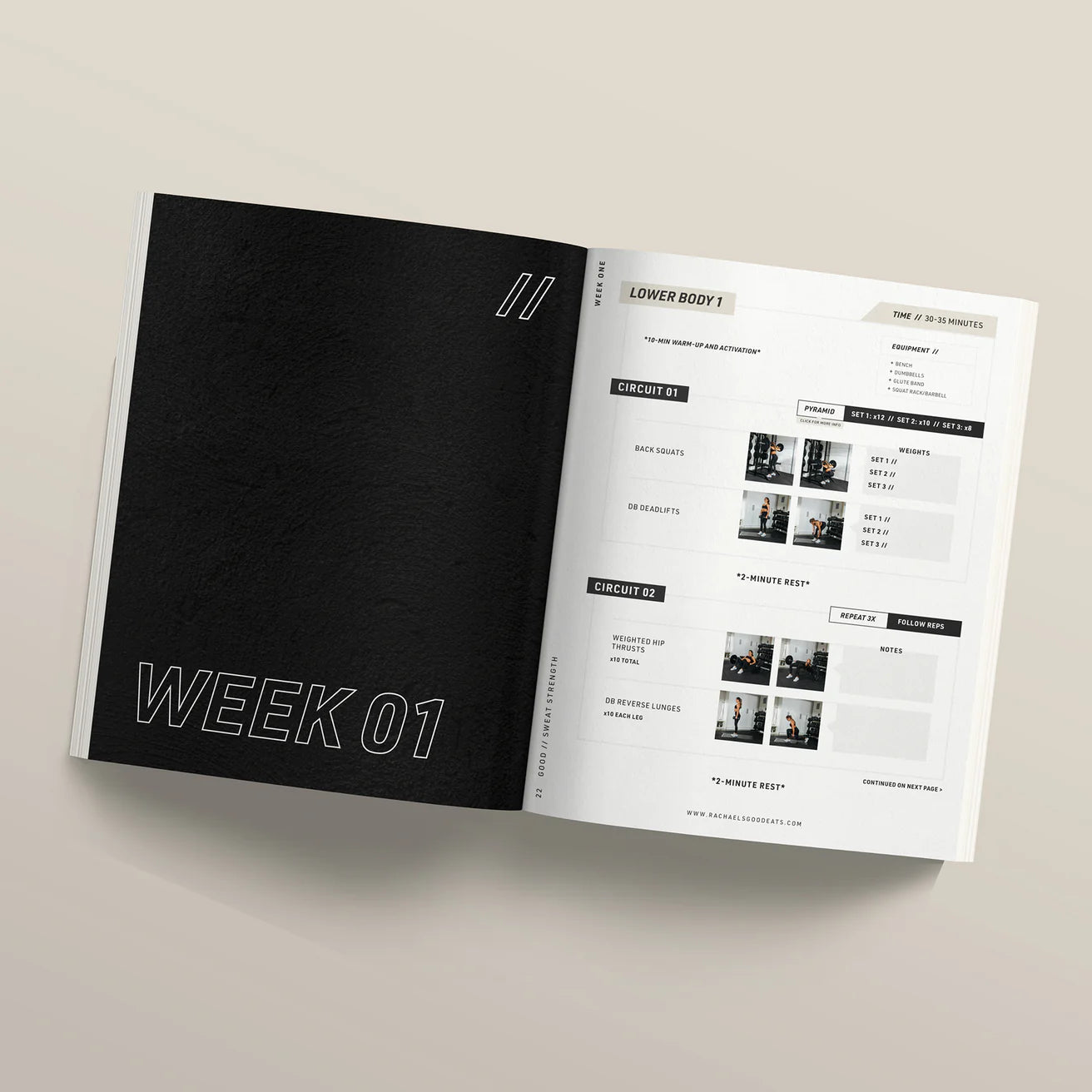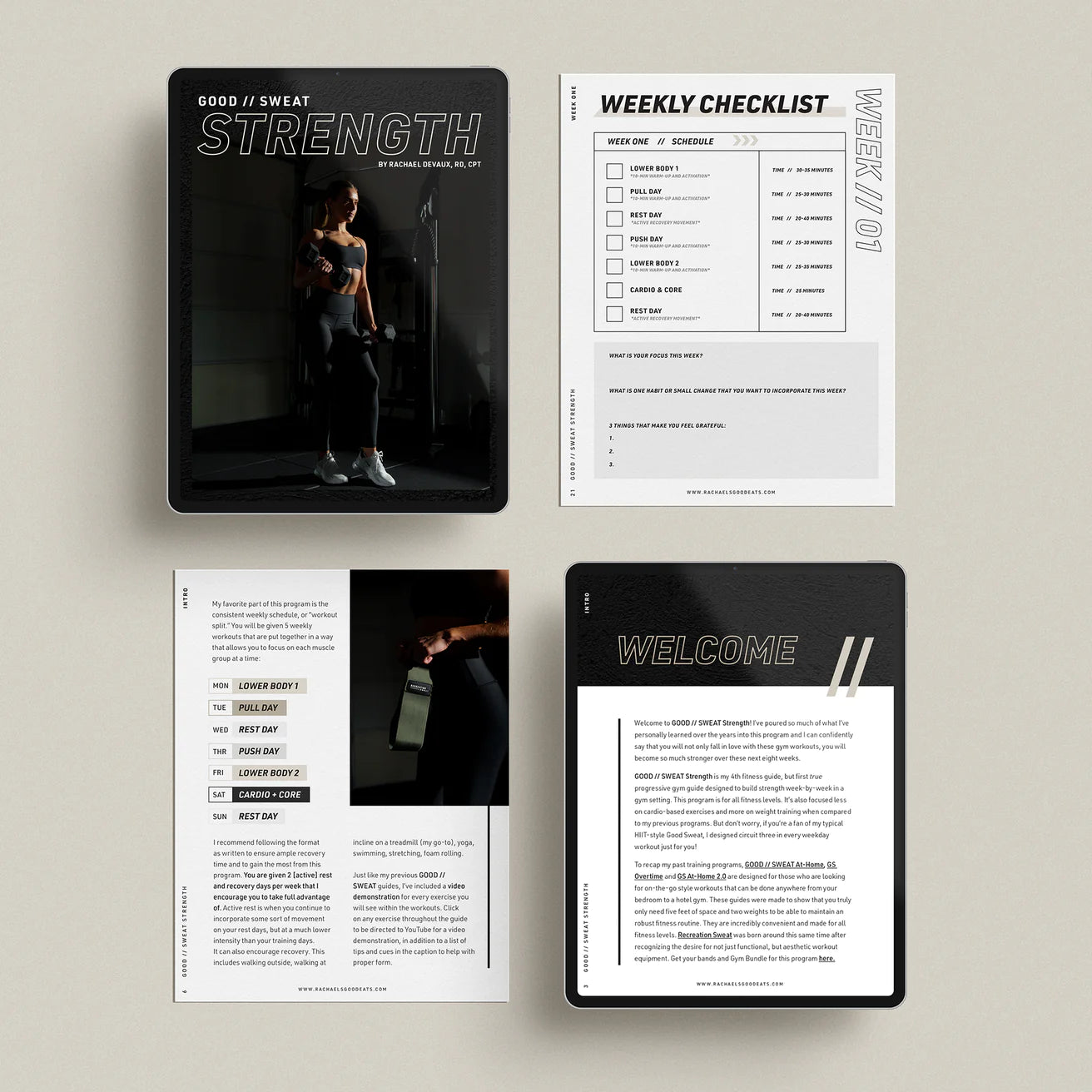 LOVE THIS
Truly an awesome program - I'm really enjoying it so far, it's very approachable, manageable, and most importantly, not boring. Only three weeks in and really loving it.
Perfect program to get back to the gym!
I was in a good groove at the gym then Covid hit and I was loving home workouts, but after 3 years knew it was time to get back to a gym. This program has not only given me the confidence to get back in there but also to use equipment I normally shy away from! Already feeling stronger after the first couple of weeks! Love that the workouts are short but efficient and that the guide has the video collection to refer back to!
@Rachaelsgoodeats GOOD // SWEAT STRENGTH GUIDE